nGen

Hongkong International Terminals Limited (HIT)'s Next Generation Terminal Management System (nGen) is a complete rewrite of our award-winning 3P Terminal Management System. Equipped with greatly enhanced programmable logic and the latest open computer technologies, nGen enables us to exceed our customers' expectations.
Step 1 / Planning Before Operation

Step 1 / Planning Before Operation
Before ocean-going vessels arrive, key information - such as container numbers, weight, size and type - is sent to HIT via Electronic Data Interchange and Customer Plus.
Ship Planners then carefully plan vessel stowage for loading and discharge operations. Using advanced technology and operating strategies, Berth Planners arrange the date and time of vessel berthing. Yard Planners decide the most appropriate yard areas for grounding containers according to their designated vessel, weight class and port of discharge.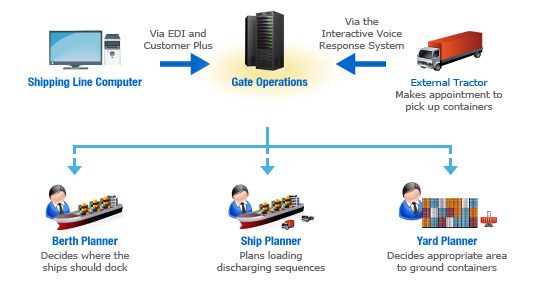 Step 2 / Gate Operations
External tractor drivers use the Interactive Voice Response System to make appointments to pick up containers. As they enter HIT, Tractor Identity Card (TID) is scanned by gate checkpoint and nGen acknowledges their arrival. They then go directly to the yard for container pickup/grounding or await further notice via Electronic Container Movement Slip (eCMS). The entire process is self-contained; there is no need for them to leave their driving cabins. At the exit gate, they complete the procedures for container inspection and data entry (seal number and container number), and their TIDs are scanned again for system confirmation.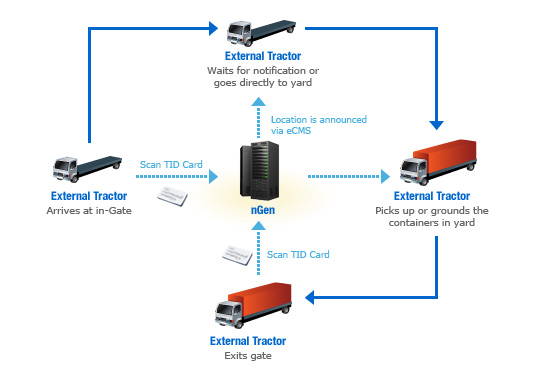 Step 3 / Container Yard Operations

Step 3 / Container Yard Operations
Rail-Mounted Gantry Cranes (RMGCs) and Rubber-Tyred Gantry Cranes (RTGCs) handle container pickup/grounding operations. Real-time container movement and inventory information is exchanged between nGen and crane operators via radio and fibre optics. External tractors go to the correct yard location marked on their Container Movement Slips (CMS) or channel via their mobile phones. Crane operators then perform the pickup/grounding operation, after which they send a confirmation message to nGen. For vessel operations, internal tractors receive container locations through the Pager system and then transfer containers to/from the quayside as required.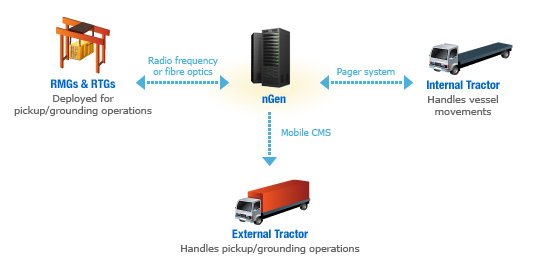 Step 4 / Quayside Operations

Step 4 / Quayside Operations
Quay Cranes – both Panamax and Post-Panamax types – service ocean-going vessels. For discharge operations, the quay crane operator discharges a container from a vessel and grounds it on the internal tractor's chassis. For loading operations, the internal tractor arrives under the quay crane with an outbound container that is then picked up and loaded onto the vessel. Pier-side checkers and stevedores exchange information using hand-held terminals and a trunk radio system.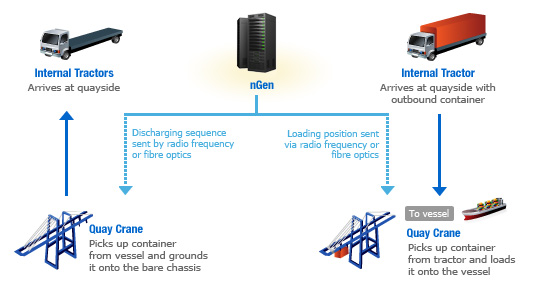 Step 5 / Barge Operations

Step 5 / Barge Operations
To meet the increasing demands of barge traffic, HIT opened its Barge Centre in 1998. The Barge Centre is responsible for all HIT barge operations, providing a convenient one-stop service for shipping lines and barge operators. The workflow has been further streamlined through the Barge Identity Card System (BID), which has greatly enhanced customer service by automating the identity authentication process.