Hongkong International Terminals Limited (HIT) keeps true to its promise to
operate efficiently while minimising any impact on the environment.

HIT's series of green initiatives aims to reduce pollutants, carbon emissions, noise, and energy and water consumption. Whenever and wherever possible, wastewater and scrap materials are reused or recycled.A member of Hong Kong's Business Environment Council, HIT is also a signatory to the 2008 Carbon Reduction Charter and 2006 Clean Air Charter. In 2007, it received the Gold Wastewi$e logo.HIT won the
Transport and Logistics Sector Gold Award at Hong Kong Awards for Environmental Excellence (HKAEE) 2009
in recognition of its outstanding performance in the areas of "Green Leadership", "Programme and Performance" and "Partner Synergy".Environmental Certificates were also received as part of the 2003 and 2007 Hong Kong Award for Industries.HIT received the ISO 14001 accreditation, an international environmental management standard that specifies a process for the implementation of a strict environmental management system spanning all aspects of the business.HIT's implementation of hybrid and electric cranes is one of the many reasons why it was singled out by Frost and Sullivan for the Asia Pacific Green Cargo Terminal Operator of the Year Award. This prestigious award recognises HIT's strong green practices, as well as its efforts to reduce the carbon footprint of its day-to-day operations.



Asia Pacific Green Cargo Terminal Operator of the Year Award
Awards for Environmental Excellence (HKAEE) 2009
Transport and Logistics Sector Gold Award at Hong Kong
MORE ENVIRONMENTAL PROTECTION
Air Pollution Control Measures
'Green' Rubber-Tyred Gantry Cranes
In 2008, Hongkong International Terminals Limited (HIT) became the first Hong Kong terminal operator to reconfigure its existing diesel-powered Rubber-Tyred Gantry Cranes (RTGCs) to run on either electric or hybrid power (diesel and electric). This effort continues as we strive to reduce port emissions and save fuel.
Electric RTGCs emit up to 95 per cent less exhaust fumes, use up to 50 per cent less fuel, and produce about 45 per cent less noise than conventional RTGCs.
Hybrid RTGCs consume 40 per cent less fuel than diesel-driven RTGCs; produce 50 per cent less carbon emissions; and emit no exhaust. A smaller engine means they require less frequent maintenance of their engine and electrical components.
To reduce exhaust and improve the efficiency of all remaining diesel-driven cranes, HIT undertakes preventative maintenance programs that include monitoring air emissions. Any readings found to be below standard are immediately rectified.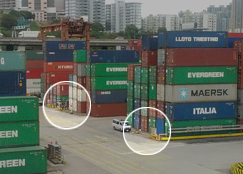 Electric RTGC Zones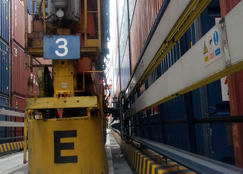 Conductor bar for eRTGC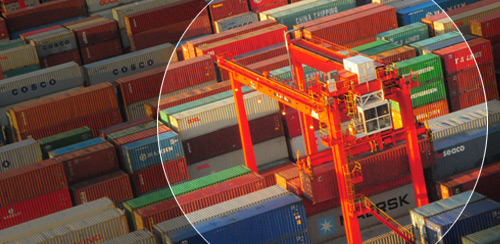 New electric and hybrid RTGCs were installed in 2011
Vehicle Emission Standards


The EURO IV engine is standard in all new company diesel vehicles.Not only are they more fuel efficient, but they also emit 25 per cent less exhaust and use 5per cent less fuel).

At the start of 2012, all intra-terminal shuttle buses began using hybrid vehicles.

Two new electric vehicles with zero emission have been in operation for internal shuttling since May 2012.
| | |
| --- | --- |
| | |
| New hybrid intra-terminal shuttle bus | New electric vehicle |
Indoor Air Quality
Indoor Air Quality (IAQ) audits are carried out half-yearly to monitor indoor air quality.Most office areas have acquired the Indoor Air Quality Certificate (Good Class) since 2008. Such certifications will be kept up to ensure good health.Primary Air Handling Units (PAU) have been upgraded to supply 40 per cent more fresh air to buildings.
Noise Pollution Control Measures
Control Measures
Hongkong International Terminals Limited (HIT) carries out routine noise monitoring through noise sensitive receivers located near residential areas.
Automatic timer controls for the RTGC sirens help to reduce excessive noise during the night.
Waste Management and Resource Efficiency
General Solid Wastes and Recyclables
Recyclable waste is disposed of in different color-coded recycling bins.
Envelopes are re-used for internal mail; scrap paper is used for rough-draft printing.
Chemical waste
Three chemical waste collection points are located within the terminal area.
A centralised chemical waste storage compound consolidates waste until it can be collected by a licensed contractor for disposal and further treatment.
Dynamic oil purifiers recycle lubricant and hydraulic waste oil.
Waste Minimisation & Cost Savings are realised in waste treatment and lube oil usage.
Industrial waste
Waste Segregation is carried out for recyclable materials such as batteries, scrap metal, printer toners and tyres.
Management procedures are implemented to reduce waste generation, such as:
• a write-off procedure to control the disposal of materials;
• the use of rechargeable batteries;
• the use of solar-powered appliances such as calculators; and
• the selling or donation of old furniture, used appliances and old computers to charitable organisations.
Waste Water and Water Conservation

In the Container Stacking Yard
Washing bays collect emulsified grease generated from the washing of cranes and vehicles for off-site disposal.Petrol filling stations are surrounded by an independent drainage system that leads to an underground oil interceptor.
In the Canteen
Under-sink grease traps remove large chunks of grease.A Dissolved Air Flotation (DAF) system separates oil from emulsified grease before sending it to the sewage treatment plant for off-site disposal.Oil and Grease (O&G) and Chemical Oxygen Demand (COD) levels have been reduced by 94 per cent and 45 per cent respectively.
Energy Consumption

Energy & Fuel-intensive areas
Electric- and hybrid-powered diesel-driven cranes are utilised.Vehicles are either electric or hybrid powered.Half of the kitchen equipment in the Staff Canteen was converted to electrical type instead of LPG type in 2007 to reduce emission.
Renewable Energy
Solar water heating systems were installed to supply hot water to the Tower 4 Changing Room and Tower 1 Management Kitchen in 2006.A solar photovoltaic (PV) system, composed of 129 thin film solar panels and connected to CLP, is located on the Terminal 4 Gate House Canopy Roof. In operation since July 2012, it powers canopy floodlights, gatehouse office lighting and security office equipment. The panels will produce approximately 19,200 kWh of electricity per year, or enough to power a four-member household in Hong Kong for around three years.
Energy Consumption
For greater energy efficiency, Hongkong International Terminals Limited (HIT) has installed electric ballasts in yards and office buildings. These ballasts emit less heat; and as a result, they reduce the power needed for air-conditioning by a maximum of 2 percent.
HIT has also begun carrying out trials on the application of the latest LED Technology in its quay cranes, RTGCs, light towers and light masts. This technology consumes 75 per cent less electricity and lasts 17 times longer than conventional sodium lamps.A 5 per cent reduction in air-conditioning use has been achieved since the installation of timer switches and variable speed drives in office units.
| | |
| --- | --- |
| | |
| Solar PV panels power the emergency gatehouse | Solar panels power the water heaters in the Tower 4 Changing Room |